Bucyrus Bicentennial Celebration Website!
This is the year Bucyrus, Ohio, is celebrating 200 years of Community Unity!
The Bucyrus Bicentennial Commission is a group of dedicated volunteers who have been diligently working for the past two years in anticipation of the 200th birthday of our beloved Bucyrus.
A  large number of celebratory events and activities have already taken place or will take place.
We will be opening up the City Hall time capsule during Bucyrus Bratwurst Festival, and we will be selling our commemorative Bicentennial items.
There will be a Johnny Appleseed Celebration  September 25-26 at The Pickwick Place during their annual Flannel Fest.
The New Year's Eve Gala on December 31, 2021, will be a festive occasion to bid farewell to the 200th anniversary of Bucyrus.
We will continue to post more events as plans are finalized.
Please consider sponsoring or donating toward these very worthy community events and causes.
PAST EVENTS
An Online Mixology Class  (via Zoom) was held on March 27th, 2021. The class was filmed in the Bucyrus Underground Speakeasy and live-streamed via Zoom. 
Our official kick-off event, the Bratwurst Drop, took place on Washington Square on May 1, 2021.  
We celebrated our Veterans on Memorial Day.
There was a weekend-long Independence Day Celebration on July 2-5, 2021.  
Bicentennial Books Available for Pre-Order!
THE BUCYRUS BICENTENNIAL PRESENTS:
A Collection of Articles by Jim Croneis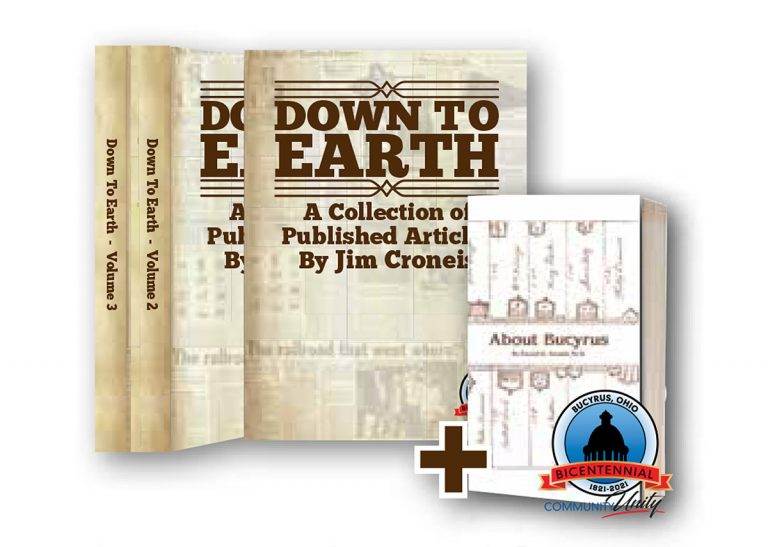 Contribute to the celebration by donating through the Crawford County Community Foundation, or become a Corporate Sponsor.